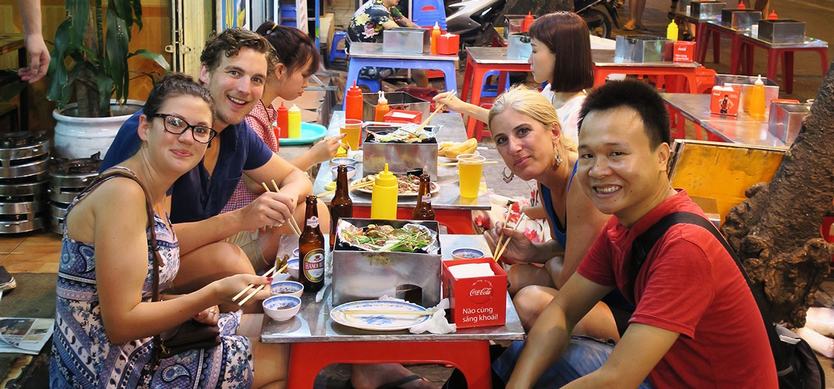 Hanoi is a paradise of food. This ancient capital attracts millions of tourists for its amazing street food culture. Let's walk with us, a little tour guide of Hanoi Free Walking Tours and 2 girls from the USA to explore it!
> Hanoi free city tour – A girl from Germany
> Hanoi war sites – Singapore family
Picking up
The weather was quite cold this time. Having taken a street food tour from our boss Ms. Diễm Anh, I went to the dating place. Even though I was late 3 minutes, I didn't imagine that I could let the guests travel alone. In order to find them, I called the boss and she said that I should not have been late even 1 second. Luckily, I saw suddenly 2 girls in front of the hotel. When I came closer, I realized that they were completely my guests. We didn't have any reasons for not starting our tour anymore.
During the tour
As they wished, I led them to Dong Xuan Market. On the way, I also had a chance to show them some traditional customs such as eating jams, Chung cake on Lunar New Year occasion, the meaning of Hanoi, etc. When we arrived at the market, they looked really curious about the star apple (vú sữa) because they didn't see this type of fruit before. After eating one, they decided to buy another to eat on the next day due to its so good flavor. Later on, we went to the back of the market. Here they asked me many questions about vegetable and I tried my best to explain to them.
Rosemary and Claire with Banh Khuc Quan and Vietnamese sausage
Next, I suggested them to try Banh Khuc Quan and Vietnamese sausage (giò). Lucky for me, my guests seemed really like it much. We continued the tour with pillow cake (bánh gối) and shrimp cake (bánh tôm). They took a lot of food photos because they were working as a reviewer for their food website. They also wrote and published their book.
At last, our late dish was grilled bread on Hang Khoai Street. They were quite surprised by the cheap beer here.
Farewell
With full feelings, we went back to the dating place. They would flight to Danang tomorrow so I wished them to be safe and have a good trip.