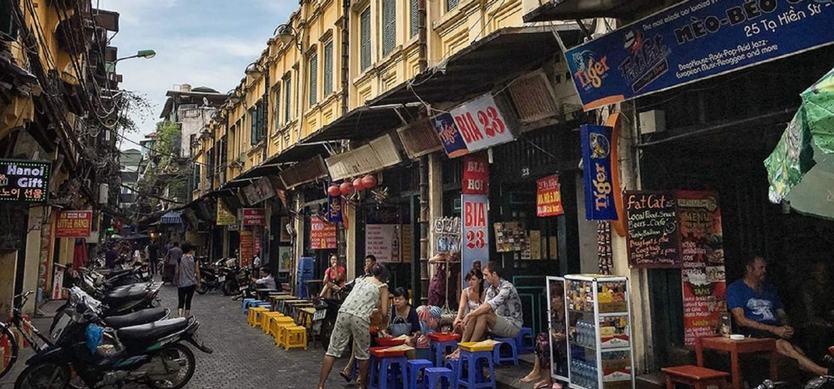 >>10 charming points of Hanoi in the eyes of foreign travelers (P2)
>>10 charming points of Hanoi in the eyes of foreign travelers (P3)
8. See the water puppets
Seeing a show at the Thang Long Water Puppet Theatre is one of the classic highlights of Hanoi, an absolute must-do. The theatre is just across the road that wraps around the north shore of Hoan Kiem Lake, on the edge of the Old Quarter. The show lasts 45 minutes and runs several times throughout the day, though it's so popular you may have to book a day or two in advance.
True to name, the puppets splash around on their stage – a square pool of waist-deep water – rather than dangle above it. The puppeteers are hidden behind a screen and maneuver their characters using bamboo rods. The scenes are based on Vietnamese legends and are accompanied by live folk musicians and singers. The whole thing is remarkably impressive and utterly charming. Once the show is over, look out for a counter selling lacquerware replicas of the puppets from the show – they make great souvenirs and the prices are very reasonable.
9. Eat in Old Hanoi restaurant
Vietnam has some of the best cuisines in the world, and if you want to sample the absolute pinnacle of it at affordable prices, head to this little gem of a restaurant. Nestled away in an old colonial building down a side street (Ton That Thiep) in the Old Quarter, Old Hanoi is run by one of the best chefs in the country: his English moniker is Mr. Rice and Gordon Ramsey is one of his good chums.
Eat in Old Hanoi restaurant
There is a set menu with seven or eight courses, including the restaurant's specialty: BBQ ribs, Vietnamese style. Other highlights include the tamarind prawns and spring rolls, but frankly, every dish is a 10/10.
10. Visit the Ho Chi Minh Mausoleum
Ho Chi Minh was an enormously important figure in Vietnam during the second half of the 20th century and is portrayed in government propaganda as the father of the communist revolution which took place following the Second World War. His final resting place, a granite memorial in Ba Dinh Square, is treated with the utmost respect and solemnity, and appropriate clothing will be required to gain entry.