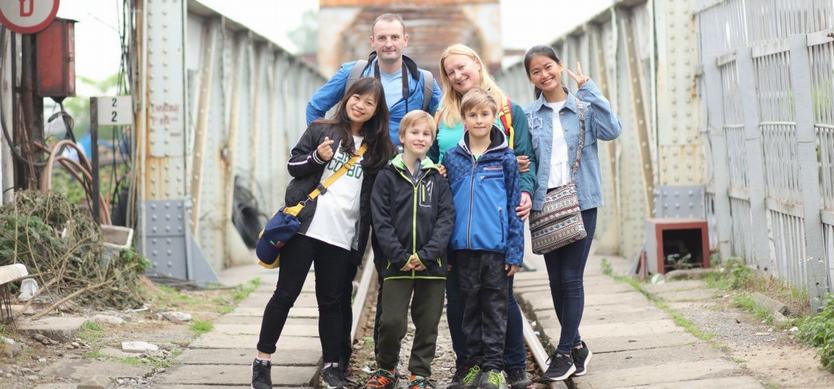 Full day tour with Leonie Hafke and her friends is a great trip ever.
>> Hanoi Street Food Experience
Picking up
We went to their hotel and picked them up at 9:00. They were so friendly and ready to discover Hanoi. We began our Hanoi Full Day Tour right after that.
During the tour
First, we went around Hanoi Old Quarter and explored some out-standing streets including:
Bach Ma temple
The 87 Ma May house
48 Hang Ngang house
They were very impressed by the history, architecture there and took a lot of photos. Some of them read a lot about history and have briefly about our country's history so they were so interested in what I introduced about the wartime.
Then we moved to Ly Quoc Su street to enjoy the most famous food in HN – Pho – Rice noodle soup.
They loved it and couldn't stop having some nice words about their taste. We had some comfortable conversations, exchanged our culture and didn't forget to take a selfie).
Next, we went to Saint Js Church.
They all were Christian so they loved it. We made some funny records to store these vague memories.
We continued our journey on walking street, stopped for a while to have a cup of egg coffee.
Our next destination was Hanoi French Quarter. We introduced the beautiful Metropole hotel and the Opera House.
Finally, we took a taxi and came to Ho Chi Minh Complex. We introduced my great president who dedicated his life to saving our country and his simple life. Take a visit at Mausoleum, his garden, the presidential palace, his house on stilts even one-pillar pagoda.
Farewell
We had been accompanied by each other during a day and we didn't want to say goodbye. We promised to keep in touch through FB and visited each other if possible.